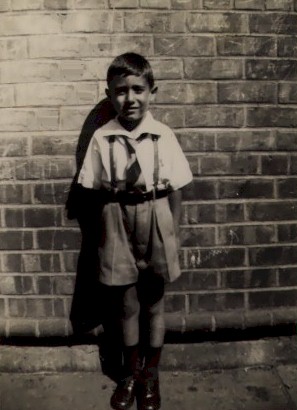 See? Bernard used
to be a kid, too

Hello, dear Reader-saurus

The question I am asked most is: "Why did you make so many books about dinosaurs?" Many years ago, when one of our sons, Glenn, was your age, he really loved dinosaurs. I remember coming home from my job as a graphic artist and writer in advertising and reading something Glenn had written in school. He wrote that he "wanted all the dinosaurs to come back to life." I had been dreaming of writing and illustrating children's books, and Glenn gave me the idea for the very first book I published, If The Dinosaurs Came Back.

My publisher wanted me to show many different kinds of dinosaurs and to name them at the end of the book. So I had to do a lot of research. The more I learned about dinosaurs, the more interested I became. I was "hooked on dinosaurs," like Glenn!

I have written many books that combine fact and fiction. I enjoy sharing my growing knowledge and my wonder about dinosaurs with readers

I have also written many books that are not about dinosaurs. Our other son, Eric, loved marine life so much (our house is filled with many tropical fish tanks) that I wrote My Very Own Octopus just for him.

I am a big believer in persistence! My book The Cow That Went OINK was rejected forty-two times before it was published. I'm glad I didn't give up!

Today I write and illustrate children's books full-time, and I love it! Glenn and Eric are grown-ups now, and I live with my wife, Amy, in Westchester County, New York. We share our house with two cats (Bonnie and Clyde, brother and sister cats) and too many tropical fish!

Your friend,
Bernard Most (BERNARD-osaurus)